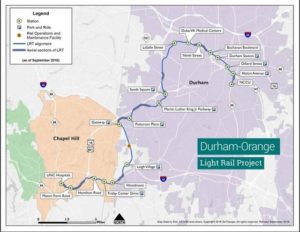 It looks like we're moving full steam ahead on the light rail project after the vote last week.  As I mentioned in a previous post, the objections came down to the cost of the project which now stands at $3.3 billion.
Given all the enthusiastic support by a lot of people for the project, I'd like to offer a bet of $100 to be donated to the charity of the winner's choosing based on the light rail project.  According to the current version of the transit plan, the 18 stop 17.7 mile light rail project will be operational in 2028.  My bet is that the project will either:
Not be operational by 2028 as measured by the time of the first paying customer
Be reduced in scope (fewer stops, less capacity, higher travel time)
Have cost overruns that increase the total cost of the project beyond $3.3 billion (note that there is already a 30% cost overrun built into the $3.3 billion number)
Basically, if light rail moves forward as projected and the first paying customer rides the rails in 2028 with no delays or cost overruns or reductions in scope, you would win this bet and I will happily donate to the charity of your choice.
Any takers?  If you believe wholeheartedly in the transit plan this should be a no-brainer.  If not, what kind of odds would you require to take the bet?
(Also note that you don't have to be "for" or "against" light rail to take this bet.)